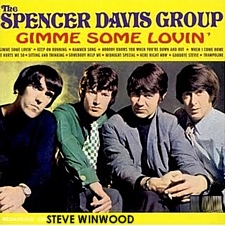 1967 - THE SPENCER DAVIS GROUP
While I was living in Wiesbaden, Germany, from November 1964 through December 1967, I began my musical performing and intense interest and love for all good music. The very first famous band I ever had the privilege of seeing live, was ironically on the very streets of Wiesbaden. While walking around and shopping with a couple of buddies one Saturday on Wilhemstrasse, a street in a richer area of downtown Wiesbaden, we began hearing great music coming from somewhere nearby. Thinking it was just the outside speakers of a store, at first we blew it off. But as we began hearing clapping and crowd response, it grabbed our curiosity. We headed toward the increasingly loudening sounds and ended up about a block away at the entrance to a dead-end street between two very popular stores.

At the beginning to the end of the dead-end were literally thousands of Germans and many Americans digging on the music of The Spencer Davis Group, many even dancing. My buddies and I stood there with our young musician's mouths agape, stunned that such a famous British band would be doing a "street dance" anywhere, let alone on the streets of Wiesbaden, Germany. The first song we heard was "Keep On Runnin'", the second was "Gimme Some Lovin'" (later recorded by the Blues Brothers), and third was "I'm A Man", a song to which the famous American band Chicago would later re-record. We were able to meet three of the four band members during their break, had photos taken and autographs signed, which have since disappeared. I was especially impressed with a very young Stevie Winwood, who was the B-3 organ player and lead singer, only at 17 years old! He had and has an awesome style, his vocal style so very soulful for a Britisher. The band was incredible sounding, too. I've never forgotten that experience. I have been a fan of Steve Winwood ever since, performing most of his hits throughout my career.

My youngest son tried so very hard to go with me to the Steve Winwood concert at the Brady Theater in Tulsa, OK, on June 20, 2007, as he loved going to concerts with me, but unfortunately, his mother would not let him. Sad, he missed a true living legend who was a hit-making member of the Spencer Davis Group, Blind Faith (with Eric Clapton), Traffic, and a successful solo artist. Steve has been touring quite a bit with his long-time friend Eric Clapton. Here are some photos from that night's concert:








CLICK ON IMAGES TO VIEW FULL SIZE - OPENS IN NEW WINDOW
Cheers, John
---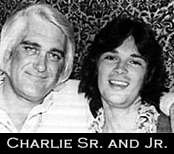 1972 - CHARLIE RICH JR. & JOPPA STREET BAND
Charlie Rich's (late Country music star and Grammy Award Winner) son Allan, now known as Charlie Rich, Jr., was one of two keyboardists in my concert band "Joppa Street Band" in 1972. This band, in different configurations, performed at outdoor concerts, festivals, and auditoriums. We did primarily original music penned by yours truly, in the style of "arena rock", if you will...kind of like "Steely Dan" meets "Yes" with a "ZZ Top" twist...figure that one out. We were a 6-piece band with 2 keyboardists, Charlie Jr. on piano and clavinet, the late Carl Breitweiser on Hammond Organ, Steve Wright on lead vocals for awhile, the late Jamie Elkins on drums, and Gary Moore for awhile on bass. This was a good concert band, but because it was primarily original music, this limited where we could perform, thus the concert venues.

Some interesting stories come to mind, the first regarding both "Charlies". We used to rehearse in Benton, AR, at Carl's mobile home, which was parked next to a Baptist church right off the highway. Allan (Charlie Jr.) was only 18 years of age at the time, still a Senior in high school, and his dad did not like him playing in bands. He wanted his son to pursue a football career in Florida, instead. But, Charlie Jr. wouldn't have it, and joined my band anyway, thanks to persuasion from Carl and Steve. Charlie Jr. did a great job on both vocals and piano, and would later be signed to Capitol Records, perform with Billy Swan and Randy Meisner of the Eagles, and play keys for the late Freddie Fender. At most of our rehearsals, we would look out Carl's living room windows into the church parking lot, and lo and behold, there was Charlie Rich sitting in his station wagon listening to Allan's and our rehearsals! I don't think he ever knew that we saw him there, and we didn't mind one bit that he was. We took it as a silent compliment. On a related note, Renee Rich, one of Charlie's daughters, used to baby-sit my oldest son.

The second story that comes to my mind about this band, was when I first got my left ear pierced, which was an experience. Jamie, the drummer, was probably my best friend in that band at that time. We were getting a bit bored at one rehearsal, and Jamie challenged me to getting my ear pierced. Carl's wife, Karen, was to do the honors. Jamie went first, and then it was my turn. She used a sewing needle, sterilized it by lighting a match under it, used an ice cube and a raw potato to pierce our left ear lobes. Not a fun experience, to say the least, but, it worked! I wore a hoop earring for the duration of that band, and then for whatever reason, stopped wearing it. The hole grew back together until 1981 when I had it re-pierced in Joplin, MO, on another bet from my bass player at the time, right after drinking too much Sake at a Japanese restaurant. This time we went to the Mall and had a girl use a "gun" for piercing...ouch. I've worn a diamond stud of one kind or another in my left ear lobe ever since. The stud I've been wearing for the last 19 years was given to me by a 4 year old girl, who was the daughter of a woman I dated briefly in early 1990 while playing with "Touch of Class" in Texarkana, AR/TX. This sweet little girl had Cerebral Palsy, so very sad to see. She told me that she loved my singing and playing, and begged me to wear one of her two diamond earring studs, and that she would wear the other to remind herself of me. I was so moved by this, that I agreed, and still wear this stud to this day.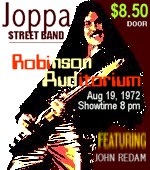 Another story is when one version of Joppa Street Band opened for Ted Nugent in Little Rock, AR. We were slotted for a 40 minute set, only. Ted was contracted for 1 hour and 15 minutes. We started our set on time, and fortunately the crowd really liked us. We did our final tune and said "goodnight", but, the crowd wouldn't let us go without an encore. They gave us a standing ovation and were shouting "one more, one more"! Our agent was standing onstage behind the curtains at stage left not far from me, and was waving us off stage. I pretended not to see him, and we came back on to do an additional 2 originals, eating up an additional 15 minutes or so. We finally got off stage at that point, feeling really good about our set. Our agent was "fit to be tied", because we had gone overtime, but was proud of us nevertheless. Then, there were some equipment problems at FOH ("front of house" - where the sound engineer was mixing), further delaying Ted's arrival on stage for another 10 minutes or so. Ted finally came on and the crowd went wild. He looked and sounded great. But, due to the contracted time, Ted was in the middle of one tune and they turned on the house lights and shut down the P.A., ending Ted's set! Ted was FURIOUS. Of course, we got the blame, but thankfully didn't cost us anything. After all, I didn't know we ran overtime and it wasn't our fault....right!? (What we musicians won't do for attention!)


Cheers, John
---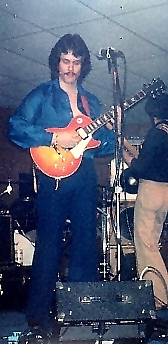 1980 - TIGHT FITTIN' PANTS - OKC, OK
In July of 1980, a friend of mine and who I was best man for his first wedding, John K. Phillips, who is a Grammy Award Winner with Robin Williams from a comedy special on HBO, hired me to move to Oklahoma City, OK, to work as an engineer and producer at French Market Mall Studios. This was a great gig for me, and I learned a lot from Kenny about engineering and producing both in the studio and in live arenas. He is brilliant at what he does.

After about a month of working with Kenny at the studio, he told me one morning that he had a surprise for me. Now, I'd first met Kenny in 1976 when I moved my oldest son and his mother with me to Tulsa to work with the Sylvester Smith III show. The part time bass player at that time was Richard Pool. After my drummer friend Kenny Hall and I left Syl back then, Richard took the band and kept the name "Touch of Class". The "surprise" that Kenny Phillips had for me was that Richard and the new "Touch of Class" was performing as house band at the Super Rig, a very large club attached to a large hotel in OKC. We went to see them, and lo and behold, Richard offered me the guitar gig that same night. I accepted and began playing with them within days.

The very pants that you see me wearing in the photo, were very popular "Angel Flight" pants, not quite "bell bottoms", rather more like John Travolta wore in "Saturday Night Fever". They were very comfortable pants, but very tight. The very first night I started with Touch of Class this time around, a very embarassing thing happened. I was running a bit late from break from talking to folks in the crowd, and ran to the center of the 4-foot high stage, placed my right leg on the stage in order to "hike" my way up rather than going all the way to one side or another of the stage to go up the steps. Stupid move on my part. My pants ripped straight down the seam over my butt. Back in those days a lot of us guys who wore these type pants didn't wear underwear, as was the case this night. You can imagine the "hoops and hollers" from the audience directly behind me when this happened! An embarassing event that will never be forgotten!


Cheers, John
---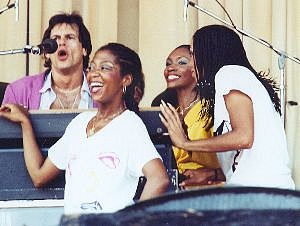 1980 - K. C. & THE SUNSHINE BAND AND SOUTHBOUND
In about March of 1980, the road version of my band "Southbound", with Keith Lancaster from Houston TX, Gary Ward from Little Rock AR, Ray Rodriguez from Houston TX, and myself, with our booking agency International Artists in Memphis TN, jammed with K.C. and members of his band one night during our 2 week gig in Natchitoches, Louisiana. K.C. & The Sunshine Band were in town doing a concert at the college arena there, and were staying at the Holiday Inn where we were performing. Other bands who were performing on the main strip in Natchitoches were Steppenwolf, Billy Joe Royal, Rare Earth (the keyboard player with me in Touch of Class, Frank Westbrook, circa 1986-1991, played and recorded with them), The Buckinghams (my bandmates Kenny & Ron Hall played with them), and The Ohio Express (whom I sat in with in Memphis, TN, right across the street from my agent's offices). Many of these musicians were staying at the same Holiday Inn we were at.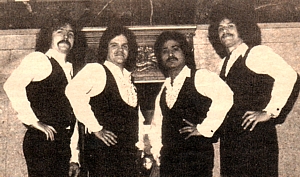 It was a Friday night when K.C. and band members jammed with us on stage, as they had just arrived at the hotel and were looking to party. Their concert was the following Saturday night. How the jam happened was when K.C. and his guitarist came up to me on our first break and began talking to me about our version of one of his hits. At first I didn't recognize K.C., but after a few minutes I knew who he was and that he was playing with me. K.C. (Harry Wayne Casey) was a super nice guy, very complimentary and humble. His guitarist on the other hand, was obnoxious and arrogant, and challenged me to a "guitar duel". I accepted. That's how the jam started.

After our night's performance ended, K.C. came back up to me and invited me and the band to come over to his hotel suite to talk and party with his band and female singers. I said "sure" and my drummer and keyboardist came along, but the bass player didn't want to come. He really missed out. We talked and partied until about 6:00 in the morning. K.C. and his female singers were who I spent most of my time with, and they kindly invited me to come and visit their studios down in Miami, Florida. There was a lot of partying going on, including lots of drinking, which two of us in the band did too much of. We had a hang-over for about 2 days after. K.C. invited me to come to their sound check on Saturday afternoon, and of course I accepted. My drummer came with me and enjoyed the sound check and subsequent jam. It would be about 22 years later when I would bump into K.C. again. He and his two female singers were doing a show-to-tape at the Ocean Club in Tulsa. I was in the front row, K.C. spotted me and recognized me from all those years ago. We talked and laughed about the Nachitoches events for quite awhile after that night's show.


Cheers, John
---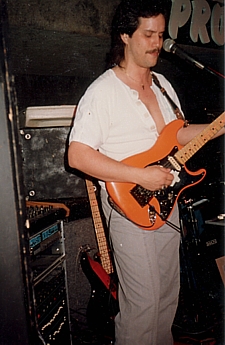 1988 - TOUCH OF CLASS AND JAMIE OLDAKER
I joined Touch of Class for the third time in August of 1986, a completely different version of previous configurations with the exception of Richard Pool. Members this time were Richard Pool on bass, keys, lights, and vocals...Judge Porter (Jana Jae of "Hee Haw" fame) on drums and vocals...Frank Westbrook (Motown recording artists Rare Earth) on keys, guitar, and vocals...yours truly on guitar, keys, bass, sound, and vocals.

Being based out of Tulsa, OK, we either knew or knew of many musicians and vocalists who went on to be major label recording artists, members of or backing musicians for major stars, and played with several of them. One of these was a very powerful and solid drummer by the name of Jamie Oldaker who was born and raised in Tulsa, OK. Jamie performed with the likes of Bob Seger, Eric Clapton, Ace Frehley, the Bee Gees, The Tractors, etc. I didn't know Jamie personally, but had met him and jammed with him on other occasions. He was a long-time friend of Judge, our drummer. On a couple of occasions, Jamie would come down to the club we were performing at and sit and listen, visit with us on break, and sit in with us to jam.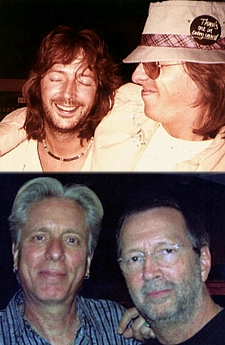 This particular night was when Jamie sat in on Judge's electronic drums, to which he was not used to. He was used to large acoustic kits and concert level volumes. It was interesting to see and hear him on these electronics, but he did great. Judge was afraid Jamie would demolish his electronics as he is such a powerful drummer. We were the first band to perform at a Tulsa club called "Profiles", located in the Tradewinds East Hotel on Harvard in Tulsa. Jamie had just flown into town after a concert tour with Ace Frehley of "Kiss" fame, and came to check us out, visit, and sit in. He sat in with us and we played many of our regular tunes, along with several Eric Clapton tunes, which of course Jamie had performed and recorded himself with Eric. Great fun for all.

The top photo of Jamie is with Eric Clapton in 1979 or so. The second photo is of Jamie with Eric just a couple of years ago. Jamie performed and recorded with Eric from 1973-1979 the first go-around, and from 1983-1986 the second time around. The most recent photo is when Jamie was recording and producing a CD of Tulsa writers and artists, with famous guests such as Taj Mahal, Bonnie Bramlett, and Eric included on the recording. It was always a fun time to jam and visit with Jamie.

Cheers, John
---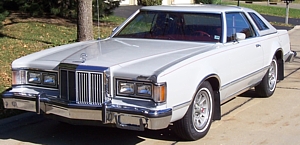 1979 COUGAR ON THE ROAD
In 1979 I had a white 1973 Chevy window van with a long wheel base which had basically seen it's day from all the road miles and the hauling of equipment and band members. I'd replaced the engine, had the transmission worked on, had the front end replaced, replaced rotors, the drive shaft, etc. It was just time to replace it.

I had owned a 1976 pale yellow Mercury Cougar, purchased brand new, really loved it a lot, had absolutely no problems with it, but it was completely inappropriate for a musician. Yet, stupid me, I went out and bought a brand new 1979 Mercury Cougar to replace my Chevy van, beautiful dove gray outside and interior, fully loaded with everything but the kitchen sink. This is where this story gets interesting.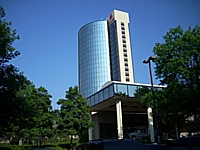 I moved to Memphis, TN, with the female singer from my Little Rock club band "Southbound" in the very hot summer of 1979. As I was part of the house band at the Hyatt Regency in Memphis, then at the Admiral Benbow Airport, needing a female singer, we decided just to move her there. I still had my Chevy Van at that time. On one trip back to Little Rock to see my oldest son, the van almost flipped due to a bad rotor, as I was speeding at about 90 miles an hour. Back in those days I was performing at least 6 nights every week, and I had very little time to get back home then return in time for the gig. This was about the time I bought the Cougar.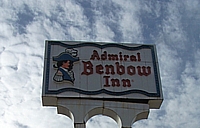 The Admiral Benbow house band thing only lasted a few months, then it was back to Little Rock for the female singer and me. We reformed "Southbound" for a very short time, but then I was offered a lucrative gig with Sylvester Smith III, who was based out of Tulsa, and whom I'd first worked with in 1976 with the original "Touch of Class". I accepted the gig and went on the road taking my '79 Cougar. After a few months, in the middle of January, we left Syl and I took the band on the road with me under my band name "Southbound", Cougar and all.

On our trip down to Natchitoches, LA, where we were booked for 2 weeks and also hooked up with K.C. & The Sunshine Band, it began to pour down with rain shortly after I crossed over the Arkansas/Louisiana border. My drummer Gary was riding with me and we both had our windows rolled down, as it was unseasonly warm. As I started to roll up the electric windows, due to the pouring down rain, they started to act funny. I turned on my windshield wipers, the radio turned off. I was closing my "moon roof" and the windows rolled up. I turned on my headlights and the radio came back on. I pushed my cruise control on and my emergency flashers came on, I turned my turn signals on and nothing happened. I looked at my drummer, he looked at me, and we both started laughing hysterically, but at the same time, we were quite freaked out. We'd never seen anything like this happen before. It was as though the Voodoo spirits of Louisiana had taken over the car!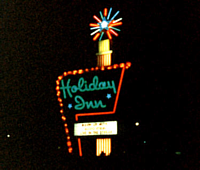 When we finally arrived at the Holiday Inn in Natchitoches, the rain had long stopped and the Cougar's electrical system was back to normal. It remained that way until our trip back to Little Rock, thank goodness, because it rained several times on the way. When we got home, I took the car to the dealership, told them what had happened, and they laughed. They went over the entire new car and could not find anything wrong. This problem continued for another month or so, and I finally decided to send it back. The guy who sold me the Cougar in Little Rock, was J.D. Ashley, who was a very good Soul singer and whom I'd worked for before. He told me later that when he finally resold the Cougar, the guy who bought it complained about the same problem. Nothing was ever found to be wrong. "Doo-dee-doo-dee-doo-dee", WEIRD, and still creeps me out to this day when I think about it all!


Cheers, John
---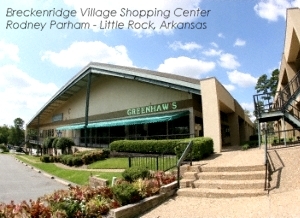 THE LITTLE ROXY, LITTLE ROCK, ARKANSAS
From late 1983 - 1984 my bandmate Wayne Hackett and I had the sound production account at a concert club in Little Rock, Arkansas, named "The Little Roxy", which was located in the Breckenridge Village Shopping Center right off of I-430. Wayne and I were playing in a band called "Touch of Class" (Little Rock version) as well as doing sound production. This was a two-level club with a balcony area and small eatery upstairs with absolutely killer fajitas, my first experience with them. This was a concert club which hosted many famous recording artists as well as very popular regional acts. I was only there for a few months before being offered and accepting a gig in Tulsa, OK, where I still live today.

When Wayne and I first started at The Little Roxy, we were more concerned with taking care of the production end of things rather than worrying about a production company name to go by. But that all changed when one of my favorite female blues/folk/R&B singers headlined at the club. Her name is Tracy Nelson, who began her fame in the San Francisco band Mother Earth back in the '60s. When talking with her before her show in the dressing room, she asked me what our production company name was. I told her we didn't have one. She asked what our names were and I told her, "John" and "Wayne". Well, that did it. She told me to name ourselves "John-Wayne Productions". Wayne and I liked it so much we used it from that day forward. The video above with Tracy singing has some very famous artists in their own right performing behind her. One of my favorite all-time blues guitarists, Robben Ford, very famous alto saxophonist David Sanborn, very famous bass player Marcus Miller, were all kickin' it behind Tracy. Tracy is definitely one of the most underrated and least known of the best female blues singers. She has been compared to Janis Joplin, although I think, as many do, that she has a smoother and more vast appeal than Janis did. Tracy is very well received by audiences and stars alike. She not only is a great talent, but is also a person with a great sense of humor and a great personality. I just spoke with her last year (2008), which was the first time since those Little Roxy days. She still performs live some, but not enough according to what she told me.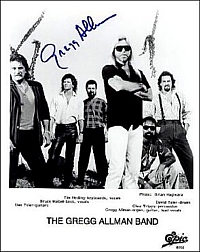 One of the countless famous recording acts who performed at the Roxy was none other than the Gregg Allman Band. Gregg Allman is, of course, the lead singer and B-3 keyboardist for the internationally famous act, "The Allman Brothers Band", one of my all-time favorite bands, and he was once married to another very famous singer/actor, "Cher". Gregg is a great guy and musical artist, very laid back. An irony is that right after I graduated High School, I immediately went on the road traveling mostly to the east coast. We played Georgia and Florida a lot in those days. One of our gigs was in Macon, Georgia, right next to where the Allman Brothers, Molly Hatchet, and .38 Special were playing outdoors. I was fortunate enough to meet Gregg and all the rest of those band members and crew.

While we were doing his soundcheck at the Roxy, he asked that we not use a lot of fancy lighting nor sound effects that night. "Just keep her simple and clean", he told me. So, that's what I gave him that night, but, much to my disappointment. I liked the effects, both sound and lighting. But, Greg was absolutely "right on" with his request. They would have not sounded or looked quite right with the effects. They sounded absolutely outstanding just clean and dry, with simple basic lighting and just a bit of delay on vocals. Not only was that night a great performance, but one of the easiest mixes I ever did.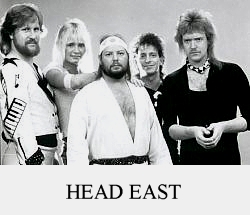 While I was head of production for "Redneck Kountry" in Tulsa, about 2005, one of the famous recording artists I engineered for was Ricky Lynn Gregg. Ricky Lynn was originally a rocker, converting later to Country music, with several major hits to his credit. I first met Ricky Lynn while I was at the Roxy when he had just joined "Head East", a very popular cult recording act.

Ricky Lynn is not only a great tenor vocalist, but also a very good guitarist, not to mention a producer as well. At that time, Ricky Lynn primarily sang backup vocals and was on lead guitar. The night Head East performed at the Roxy, I ran monitors for them, standing right next to Ricky Lynn on stage. Funny how ironic it was that I ran sound for him so many years later at "Redneck Kountry".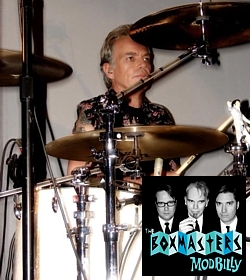 I'm fairly certain that all of you know who Billy Bob Thornton is...he's the very famous Academy Awards/Oscar winning actor who was once married to another very famous actor in her own right, Angelie Jolie, John Voigt's daughter, yet ANOTHER very famous actor. Billy Bob is originally from the Hot Springs, Arkansas area, and began as a musician and baseball player. His main instrument was/is the drums, but, he's also a lead vocalist, producer, composer, and studio owner. Today Billy Bob has a popular "Americana" band named "The Boxmasters" who has several albums, concerts, and T.V. appearances to their credit. The photo to the left is of Billy Bob Thornton, present-day, sitting on his drum kit at his home studio in Los Angeles, California.

One day I showed up at the Roxy to do a soundcheck for a band who was unknown to me, named "Tres Hombres", who was a ZZ Top tribute band. I distinctly remember how very, very...VERY loud they were during soundcheck. So much so, that the guitar rig was drowning out the P.A. system! I went up to the stage and asked them to turn down just enough so that I had some control over the mix. Well, guess who it was that I spoke to most of all? It was Billy Bob Thornton! He was the drummer and vocalist in that band, had long black hair and kind of resembled a pirate in appearance. Of course, he was not an international star yet so I did not know him from "Adam", although I knew who the other two band members were.

I'm so glad that I was diplomatic and complimentary to them then, due to where Billy Bob's fame is today. "Tres Hombres" members had two brothers from Benton, Arkansas, Mike Shipp on guitar/vocal, Nick Shipp on bass/vocal, and of course Billy Bob Thornton on drums/vocal. Mike Shipp has performed with some of Billy Bob's other bands in recent years. About a year ago Mike, Nick, several famous guitarists, and my old friend and bandmate for many years, Kenny Hall, who played with me in several bands going all the way back to my concert band "Happy Jack", recorded a CD produced by Billy Bob at his home studio in Los Angeles.


Cheers, John
---
More stories to come...